Well done to Year 11, who have achieved excellent value added results with today's GCSEs! Today, an impressive third of our students scored at least half a grade higher than national predicted grades across all their GCSE subjects.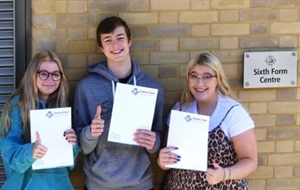 A notable achiever is Daisy, who was thrilled to achieve two grades higher than national predictions across all her GCSEs. Daisy plans to build on her successes by studying A levels in English literature, history and philosophy.
Another notable achiever is IT enthusiast Tom, who achieved a grade 8 in GCSE computer science. Our IT department has been helping him to fulfil his dream of a career in IT by providing holiday work experience for the past two years. The runner up in the United Learning Best In Everyone award has proved such an asset that he has been put in charge of the school iPad roll out to new students and staff. Through school, Tom has visited the data centre in Heathrow, the Google Headquarters in London and a Fidelity Cyber Security Operations Centre.
Mr Tottman said: "Dunottar prides itself on enabling pupils of all abilities to be the best that they can be. I am very proud of our Year 11s who have not only worked hard, but also taken advantage of the many opportunities at Dunottar."
We wish all our pupils the best of luck in the next step of their education!