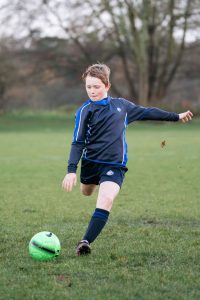 Football is the priority sport for the boys at Dunottar in the Spring term (January – April) each year. In the Autumn term, we enter our boys' A teams into the English Schools FA Small Schools National Cup and the Independent Schools FA National Cup. We also run lunchtime training sessions for boys in these teams during the Autumn term.
In the Spring term, we have competitive fixtures for our U12ABC, U13AB, U14AB, U15AB (Saturday morning fixtures) and our 1st XI, 2nd XI and 3rd XI teams (Wednesday afternoon fixtures) currently. Our typical opponents across the season include; Epsom College, Gordon's, Glyn,  Judd, Sutton Grammar School for Boys, LVS Ascot and City of London Freeman's.
In recent years, we have celebrated success on the football pitch on both an individual and team basis. On a team level, our U15A boys team (2022/23) reached the semi-final of the ISFA National Cup after an impressive cup run beating the likes of Colfe's, Downsend and Worth on the way to the last four of this national competition. On an individual level, Dunottar pupils have earned places in Dorking Wanderers Youth Development Teams, as well as gaining selection for the District Lions South East Football Squad (and Development Squad) where they played against academy teams before going out to Gothenburg (Sweden) to compete at the Gothia Cup, the World's largest youth football tournament. The District Lions squads are picked through trials from nominated pupils in Berkshire, Buckinghamshire, Hampshire, Oxford and Surrey).
In August 2020, we formed an exciting partnership with Dorking Wanderers Football Club. As a result of the partnership, pupils from Dunottar are able to attend trials for Dorking Wanderers Youth Development Teams. We also have a partnership with Dorking Wanderers Academy whereby students can take their A Levels with us whilst playing on Wednesday afternoons for one of Dorking's Academy Teams. The students will also have training sessions with Dorking throughout the week, some of which will take place at Dunottar using our gym facilities.
The provision for football is led by Mr Matt Everett, with support from professional football coaches with a wealth of playing and coaching experience. This includes ex-professional footballer and Fulham U23 coach Mr Mark Pembridge.