Students at Dunottar School were today celebrating another year of A level success, in which 20% of the grades attained were A*-A.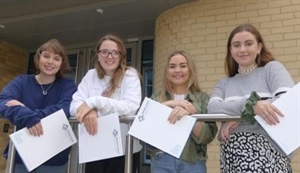 The Reigate-based school, which recently won the prestigious Education Business Award for 'Outstanding Progress', continues to gain excellent added value results. Today, 40% of pupils averaged a whole grade higher than national baseline data predictions.
Achievements across the curriculum are also impressive. Nearly three quarters of all grades were higher than national predictions, with pupils exceeding predictions in English, mathematics, physics, biology, history, sociology, religious studies and photography.
Headmaster Mark Tottman was delighted: "We are thrilled with what our Sixth Formers have achieved in their time at Dunottar. They have grown as young people and are a real credit to the school."
School Captain Olivia Newing, who has gained a levels in art, English literature and philosophy, is going to Nottingham to study philosophy. She said: "Dunottar believes in me. It's given me the support to do what I want to do. I don't feel that I would have been able to do this anywhere else."
Long-term pals Sophie Boden and Emma Longstaff have been at Dunottar since they were three years old. They are both going to Exeter University.
Deputy School Captain Sophie Boden is taking her A levels in history, psychology and sociology to study psychology. She said: "I'll miss how friendly the environment is—I've been here my whole life. Dunottar has helped me to grow as a person, and I'm a lot more confident than I used to be."
House Captain Emma, who gained A levels in English literature, psychology and sociology, will be studying sociology. She said: "Dunottar has been my life for the last 14 years. I'll miss everybody here, and I couldn't have done it anywhere else. It's been great being in small classes. The teachers are so hands on, and I can go to them whenever I need help."
As a result of Dunottar more than tripling in size since 2014, United Learning recently invested £2.2 million in a state-of-the-art Sixth Form Centre, which opened in April.