Dunottar School is delighted to announce that it has won the prestigious Education Business Award for the 'Outstanding Progress – UK Independent Schools' category 2019.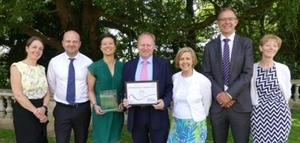 Now in their 12th year, the Education Business Awards recognise schools across the UK for improving the standard of education and the life chances of their students, highlighting the vital work of educational professionals up and down the country.
Sponsored by Schools Advisory Service, the awards recognise operational excellence in 24 categories. On 4th July, these awards were presented by BBC television and radio presenter Angellica Bell, who told a heart-warming story of how teachers made an impact on her life.
In recent years, many well-known schools from across the UK have been shortlisted for the 'Outstanding Progress – UK Independent Schools' category, with Brighton College winning in 2017 and Bromley High School in 2018.
Included in the 2019 shortlist were Seaton House School in Sutton, Claremont School in East Sussex, Putney High School GDST in London and Babington House School in Kent.
The independent panel of judges from Education Business Awards commented on how Dunottar rose from the brink of closure five years ago, with only 118 pupils, to become a thriving, co-educational school.
Today, Dunottar has over 400 pupils equipped with an iPad for use in lessons and with homework assignments. The co-educational school has inspirational teaching and learning, excellent pastoral care and a progressive building programme, including a new £2.2 million state-of-the-art Sixth Form Centre.
This incredible turn-around in the school's development has come from the United Learning group, which Dunottar School joined in 2014.
Headmaster, Mark Tottman, said: "This award is a tribute to all the people in the Reigate community and beyond who have supported Dunottar over the last few years and encouraged the school to thrive. It is a special feeling to be recognised for outstanding progress in independent education. We will ensure that our pupils continue to be inspired by all that we are doing at Dunottar."
United Learning's chief executive, Sir Jon Coles, was recently knighted in the Queen's birthday honours list.