Year 7 and 8 pupils from Dunottar School in Reigate have enjoyed time off curriculum to take part in activities that were inspired by Shakespeare's play 'A Midsummer Night's Dream'.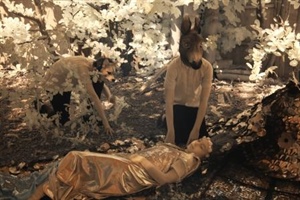 Aiming to develop pupils' interests and talents beyond the classroom, Arts Week has also provided the opportunity to develop the pupils' 'warrior learner' behaviours.
Since Joining United Learning in 2014, Dunottar has promoted the warrior learner behaviours of aspiration, curiosity, collaboration, inclusivity, creativity, independence and tenacity, which underpin the learning at the co-educational school.
The eager youngsters chose a workshop in which to to immerse themselves for the three days:
Treading the Boards: the performance of an abridged version of 'A Midsummer Night's Dream' in the school's outdoor classroom.
Prop studio: using the influence of artists Sister Corita Kent and Bob & Roberta Smith to create pieces of art to decorate the outdoor classroom theatre space, ready for the performance of the play.
Awesome Animation: learning how to use software on student iPads to create stop-motion animations of the play.
Language games and flower art: using French, Spanish, Italian and English to make and play board games about the characters in the play; learning how to translate Shakespeare quotes into Japanese; labelling flowers for the stage set with translations.
Surreal Shoots: taking outside photographs and using the green screen to create artwork in response to the play.
Pitch Perfect: recording folk music and ensemble singing with harmonies, dressed as fairies.
If Music be the Food of Love: making instruments and composing music to be performed during the play.
Being creative: costume making and design.
The Reality behind the Dream: researching and creating iMovies about the historical context to the play, including Elizabethan theatre, Elizabeth I's image, and attitudes to witchcraft and fairies.
Beatboxing: Inspired by a workshop led by actor, writer, director, rapper, beatboxer, singer and theatre maker Conrad Murray, reworking parts of the play to incorporate beatboxing and performance poetry.
In a triumph of collaboration, Arts Week culminated with an abridged version of 'A Midsummer Nights' Dream', performed in the newly created outdoor theatre. Fairies and lovers bounded around a stage with props made by pupils, in costumes designed and sewn by pupils, and accompanied by music composed and performed by pupils.
Deputy Head Pippa Smithson said: "A key part of this has been the creative journey the pupils have been on. Dealing with things going wrong, working under time pressure and collaborating with peers are part of that. The inspiring final production is testimony to this journey."