On Tuesday 2nd July, a group of Year 7 and 8 students from Dunottar School in Reigate enjoyed a day of beatboxing workshops, led by actor, writer, director, rapper, beatboxer, singer and theatre maker Conrad Murray.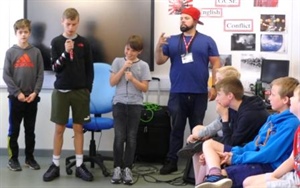 The beatboxing workshop was one of a range of arts activities linked to the theme of Shakespeare's 'A Midsummer Night's Dream'.
Pupils had prepared for the workshop by exploring the origins of poetry as an oral tradition and how this developed over time. Their next step was to learn about beatboxing, which they then combined with Shakespeare.
Conrad Murray, the artistic Director of the BAC Beatbox Academy, introduced the core sounds of beatboxing, created with the microphone. The eager pupils then learnt about freestyle performance and the whole experience of being a beatboxer. This included exploring the music and performances of Glastonbury Festival headliner Stormzy and how his music has developed over time.
After learning how to beatbox, students were challenged to rework parts of the stand-off between the lovers in 'A Midsummer Night's Dream' to incorporate beatboxing and performance poetry. The pupils manipulated Shakespeare's script to make their own modern lyrics, but kept Shakespeare's original insults.
Head of Careers Education and English teacher Rachel Wilshaw, who co-organised the session, commented: "It was great to see the shy students come out of their shells; the quietest students shone the brightest. Year 7 and 8 pupils collaborated, experimented with their ideas, picked up new skills and gained an insight into an industry that is quite new in terms of its mainstream music."
Head of Psychology and English teacher Darron Kokott added: "The next day, a group of film-making students made a video of their performances, and our head of photography Mark Huxley photographed them. It was fantastic for them to experience the whole package of being in the music industry."