Dunottar School in Reigate has raised nearly £22,000 for charities throughout the academic year.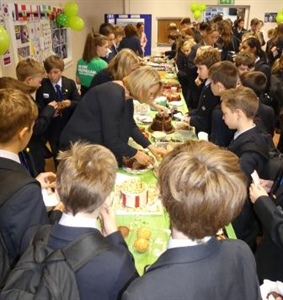 Pupils, staff and parents have raised an impressive £21,827 for sixteen charities. This excludes the donation of hair by a sixth form student to The Little Princess Trust and the donation of food weighing a total of 445.17 kilos for Reigate food bank Loveworks.
The fundraising activities were initiated by the whole community of Dunottar students, past and present, parents and staff. Sixth formers organised a successful 'splat the teacher', raising more than £500 for Children in Need. The whole maths department completed a gruelling 26.2-mile 'Full Moon Marathon' to raise £4,300 for Walk the Walk, a grant making charity committed to raising funds for all breast cancer causes. Dunottar PTA organised a popular cake sale as part of Macmillan's World's Biggest Coffee Morning.
The £21,827 total equates to £131 for each school day and £60 for each student in the school.
Headmaster, Mark Tottman, said: "Dunottar pupils, staff and parents have helped many charities throughout the year. I am delighted not only with the amount we have raised, but also with the variety of creative ways in which the pupils and charity committee have engaged the community in supporting good causes."