On Wednesday 26th June, Reigate's Dunottar School welcomed RAF pilot and trainee astronaut Kerry Bennett as guest speaker at its annual prize giving evening at the Dorking Halls.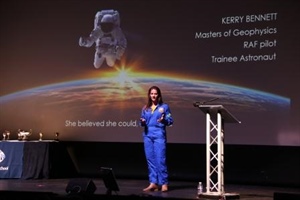 Flight Lieutenant Kerry rose to fame as a finalist in the 2017 BBC television series Astronauts: Do You Have What It Takes? The three finalists were of such high calibre that they all received recommendations from world-renowned former astronaut and commander of the International Space Station Chris Hadfield, to join the European Space Agency when it is next open to applicants.
Kerry, who was last year recognised in the Women in Defence Awards, inspired a packed hall of pupils, parents and staff with descriptions of the challenges she faced in the television programme and on her journey to become a successful RAF pilot.
These challenges include breaking her back in three places at the age of sixteen, but having the resilience to complete her A levels and negotiate a place at Southampton University where she gained a Master's degree in Geophysics. After graduation, Kerry faced the disappointment of being 'chopped' from fast jet training, but she picked herself up and joined the VIP no. 32 (The Royal) Squadron. The RAF pilot enjoys the high life and has flown celebrities such as James Bond star Daniel Craig and members of the Royal family around the globe.
Kerry emphasised the importance of making the most of opportunities that arise and tackling these opportunities with determination and resilience. She said 'the best rewards come from taking risks. That's when you achieve', adding 'In the end, we only regret the chances we didn't take'.
Dunottar School's Headmaster, Mark Tottman, commented: "Kerry's story of how she has overcome unexpected hurdles and challenges at various points in her life was inspiring and moving. Her continued quest to become an astronaut and her aspirational message showed us all that the sky is not the limit."