A group of students from a school in Reigate have visited an investment company to learn about cybersecurity.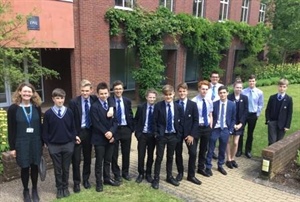 On Friday 21st June, twelve students from Dunottar School in Reigate visited the Tadworth offices of Fidelity Investments, an American multinational financial services corporation.
The Year 10 and 12 GCSE and A-level computer science students learnt about the wide range of threats that organisations face and the complexity of countering these threats. They enjoyed a tour around a working cybersecurity area and were fortunate to meet the analysts who detect threats and prevent vulnerabilities. In addition, the students received valuable career advice about different paths into this field as well as useful interview tips.
Sally Berry, Head of Computer Science at Dunottar, said: "The visit to Fidelity really brought the curriculum to life. The GCSE students in particular had learnt about cyberthreats and preventions in a classroom, and it was fascinating to hear real examples of these in the context of a financial organisation. Thank you to Fidelity for inspiring them with their future career choices!"