A-level pupils from Dunottar School in Reigate have moved into their newly built Sixth Form Centre.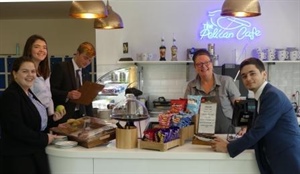 The £2.2 million building provides a modern working space that aims to look and feel like being at university and the world of work. Students also enjoy the benefits of silent study areas, collaborative study areas and social spaces, such as a patio, a cafeteria and a 'rec room'.
The energy efficient building, designed to integrate perfectly with the school's beautiful Grade II listed buildings, has lots of natural light, an LED lighting system and an environmentally considered heating system.
New plants and trees, sympathetic to the historical gardens, maintain the ecology of the existing landscaping. 
The Sixth Form Centre is the first of two building projects that aim to improve the educational experiences of the increasing number of pupils attending the Reigate-based school—since Dunottar became co-educational and joined the United Learning group in March 2014, pupil numbers have risen rapidly. Work has begun on a second project, a £4.5 initiative to build an assembly hall and classrooms.
Headmaster, Mark Tottman, said: "The new Sixth Form Centre has been a big hit with our pupils. They love the feeling of independence that the new facilities allow, and it has also brought them even closer together as a group. On seeing the building for the first time, many parents and staff have commented that they would like to be sixth-formers again!" 
For information about studying A levels at Dunottar, contact info@dunottarschool.com.