The entire maths department from Dunottar School in Reigate has completed a gruelling 26.2-mile 'Full Moon Marathon' to raise cash for Walk the Walk, a grant making charity committed to raising funds for all breast cancer causes.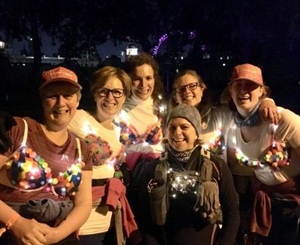 The 'Mathematitians' have raised £4,222.40, smashing their £1,000 fundraising target.
On the evening of May 11th and early morning hours of the 12th, LucyAnne Chessell, Nina Budgen, Holly Needler, Sally Ryde, Jane Pardoe and Rebecca MacTavish power walked the 22nd night-time MoonWalk in London, which started and ended at Clapham Common.
During the eight-hour MoonWalk, the department, which also aimed to get fit and have fun, entertained each other with stimulating maths talk.
Head of Mathematics, Rebecca MacTavish, said: "It was both an amazing and challenging experience for us all. Walking through the streets of London at night was immensely beautiful. We passed iconic landmarks, many illuminated in pink, and we spoke with strangers whose lives had been impacted by breast cancer. We were encouraged and sustained by the huge numbers of volunteer crew; never have half a banana, a wedge of orange or a couple of jelly babies tasted so good!
"The plan was to go out hard for the first 13 miles, which we did, and then one by one the physical aches, pains and niggles began to kick in. It was a tremendous team effort with lots of singing, stretching at traffic lights and a strategic sock change at 18 miles. The birds were singing and the sun began to rise between 20 and 22 miles…the chat and singing subsided.
"We returned to Hyde Park Corner for the second time and, with three miles to go, the end was in sight, and our spirits lifted. It was with a wave of emotion that we crossed the finish line: a team intact, elated, and relieved!"
Mathematics teacher and head of fundraising, LucyAnne Chessell, who proposed the MoonWalk, said: "In our everyday lives, we all know people who have been touched by cancer, and it's easy to worry about it. I thought it would be better to focus on something challenging and tough—something that brings us all together for a charity that touches our hearts whilst raising money for a good cause."
To donate: https://moonwalklondon2019.everydayhero.com/uk/lucyanne