On Friday 22nd, March, ninety students from a school in Reigate enjoyed a morning of science lectures by university lecturers.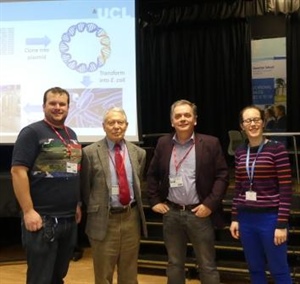 Attended by Year 9 and 10 students, the initiative was part of a week of activities to celebrate Science Week at Dunottar School.
The aim of the event, chaired by Doctor Charles Pasternak, the President of the Oxford International Biomedical Centre, was to stretch and challenge top-band students by engaging them with different aspects of science that relate to genetic modification.
The pupils enjoyed a university-style lecture by Doctor Henry Taunt (University College, London), who delivered a talk to the aspiring scientists entitled Introduction to Genetic Engineering; he was followed by Professor Saul Purton (also from University College, London), who delivered a lecture about genetic engineering in algae to his rapt audience. 
The pupils took part in lively break-out discussions, after which representatives from each group grilled the speakers in lively question and answer sessions. 
Hannah Davison, Acting Head of Science, said: "It was an excellent day, which was both interesting and thought-provoking. I'm so proud of the students for having discussed each lecture in detail and generated key questions. I'm hoping that this will encourage many of them to consider possible future careers in the sciences.
She added, "A special thank you must be made to our science team for helping to staff the event as well as to our visitors for very generously giving up their time."