On Thursday, 21st March, Year 9 students at Dunottar School in Reigate enjoyed a day off curriculum to take part in a range of activities, linked to World War 1.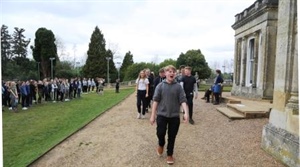 The aim of the day was to learn about aspects of the war that are not covered in the history curriculum.
Pupils took part in a wide range of activities, which included:
Art, Design and Technology: lino printing silhouettes of soldiers to create an outdoor art installation.
English and drama: exploring the nature of fear in the trenches through the enactment of an extract from R. C. Sherriff's 'Journey's End'.
French: the exploration of the life of French soldiers in the trenches through the examination of poetry, correspondence and a diary extract. Pupils wrote poetry and made a cornflower, which is the remembrance flower for the French. 
History: students learnt an army drill, which culminated in a house 'drill off' competition.
Photography: Using original images taken during the First World War, students 'fused' to these images, dressed up as soldiers and their families, using green-screen technology and digital photography.
Religious Studies: discussions about the morality of war and whether it is ever right to kill. Students debated thought experiments; engaged with moral philosophies such as Utilitarianism; and pondered over time travel and murdering Hitler as a baby. They also applied what they learnt to the bombing of Dresden in the Second World War.  
Food and Nutrition: Cooking for victory! Students made potato chocolate biscuits, sampled trench cake, and made lentil, onion and cheese paté.
Music: students packed up their troubles in an old kit bag and sang popular songs from the time.
Science: the investigation of gas warfare, learning about other injuries that the soldiers sustained, and appreciating medical advancements that are a result of war.
Sport: a lunch-time five-a-side football tournament, recognising the trench football match between the British and German soldiers during the Christmas of 1914.
Head of History, Mrs Boden, commented: "We decided as a department that we would build on the success of last year's cross-curricular day, and we were particularly interested in developing the school's 'warrior learner' traits of curiosity, independence, creativity, aspiration, tenacity, inclusivity and collaboration. We were looking especially for collaboration and curiosity in the activities in which the students engaged.
"It is wonderful to have a teaching staff here at Dunottar who are willing to support initiatives like this," she added. "Students really benefit from seeing that what they learn in the history classroom also has relevance in other subjects: history isn't an isolated subject on the curriculum. From the students' feedback, we definitely fulfilled our aims.
"We're now looking forward to our visit to the trenches in Belgium next term to further enhance the students' educational opportunities."
The history department at Dunottar School is the first secondary school in Surrey and one of only a handful of secondary schools in the country to be awarded the gold Historical Association Quality Mark, which recognises the excellence of history provision in a school.