On Thursday 28th February, Dunottar School hosted its first ever Digital Careers Evening. The Reigate-based school welcomed visitors from Amazon, Psyon, Jellyfish and Google, who talked about their experiences in the technology industry.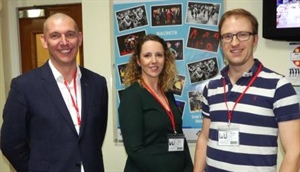 The evening was part of a programme of lunchtime networking events and evening subject-specific events, which aim to broaden pupils' horizons by hearing from industry experts and learning about career opportunities.
The Digital Careers Evening, which explored routes into IT careers, provided a 150-strong audience of pupils and parents with the opportunity to quiz the speakers about their career pathways.
Jason Taylor, Software Development Manager at Amazon, runs a team that looks after the prime video websites in each territory, aiming to keep each respective website running smoothly in each country, no matter how busy it is. He entertained his listeners with insights into how he worked his way up into a senior management level position at Amazon.
Dunottar also welcomed former Dunottar student Nicky Dunderdale, Director of Digital at Psyon, a technology, analytics and wellbeing team dedicated to transforming customer experience of employee benefits. Passionate about inclusivity in STEM, she sits on the #techshecan Improving Education Steering Group. She also talked about her mentoring sessions with students in the Reigate area, in which she helps them to find out more about the diverse range of careers in technology.
She was followed by Daniel Wilkinson, Head of Paid Media and award-winning senior digital marketeer at Jellyfish, a digital marketing agency. Former international ballroom dancer Daniel believes that success is 90% hard work, 5% luck and 5% academic attainment. He provided a fascinating insight into the different routes into 'tech' that require a balance between academic attributes and the personal attributes of being a collaborative, creative, solutions-focused person.
Finally, guest speaker Ian Ballantyne, who works at Google, talked about his career as a Developer Advocate (someone who helps other developers to understand technology). He works as part of the Ads Developer Relations team and helps Google partners provide scalable digital advertising to millions of small to medium businesses. He gave his listeners advice about what he would tell his past self, thinking about careers in the year 2000: technology can improve our lives and achieve the unimaginable.
Rachel Wilshaw, Head of Careers at Dunottar School, said: "The purpose of the evening was to help pupils understand that jobs that will exist in five, ten and twenty years' time don't necessarily exist yet.
"What is important is that pupils develop their skillset and foster a positive work ethic. They need to demonstrate open-mindedness and a hard-working attitude—these character traits will help them to achieve their aspirations.
"Thank you to the speakers for a very insightful and motivational evening."