On Tuesday 29th January, seventy Year 7 pupils from a school in Reigate hit the O2 Arena to sing in front of thousands—at one of the largest children's choir concerts in the world.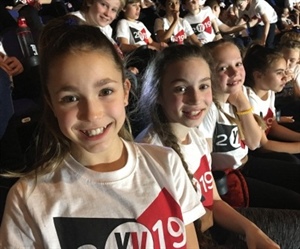 The Year 7 students from Dunottar School joined school choirs from across the country to perform at one of 24 concerts across England. In total, over 150,000 children will have taken part in Young Voices' largest concert tour to date.
Young Voices, which stages the school concerts, aims to inspire a love of music and create memories for the children that will last a lifetime.
Enthusiastic pupils from schools from across the South-East sang as a single choir to an audience of friends and family at the 20,000-capacity O2 Arena.
The pupils were accompanied by Tony Hadley, the lead singer of the 1980s New Romantic band Spandau Ballet. Following the group's split in 1990, he has established a successful solo career.
The concert raised funds for Teenage Cancer Trust, a charity that provides specialist nursing care and support to young people with cancer.
Emily Pettet, director of music at Dunottar, said: "It was a pleasure to see our pupils so enthusiastically involved, both through singing and the choreographed dance moves! We have had a really positive response from both pupils and parents, and we look forward to returning to the O2 Arena for next year's Young Voices concert."