On 28th November, pupils from a school in Reigate performed a Shakespeare play at the world's largest youth drama festival.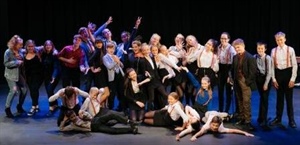 Students from Dunottar School performed an abridged version of 'Othello' at an exhilarating evening of Shakespeare productions at the Leatherhead Theatre in Leatherhead.
The performance was one of many across the UK, in which nearly 30,000 young people from primary, secondary and special schools united to stage autumn productions in professional theatres.
The event was part of the Shakespeare Schools Festival, organised by the Shakespeare Schools Foundation (SSF), a cultural education charity that aims to give young people across the UK the confidence to succeed in life.
Director Tarani Jago, head of performing arts at Dunottar, said: "The students could not have given a better performance. Every member of the cast performed and behaved like true professionals, including some absolutely outstanding individual performances."
Headmaster, Mark Tottman, who attended the performance, commented: "Dunottar pupils were very proud to perform on stage as part of this prestigious evening of Shakespeare. 'Othello' was a challenging and collaborative project which gave pupils the opportunity to be creative and ambitious."