On Thursday, 18th October, music scholars joined drama scholars at Dunottar School in Reigate for a stunning evening of performances.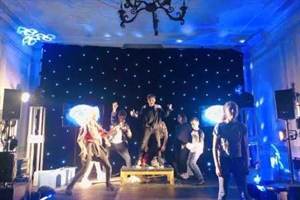 In the first scholars' performance in the history of the school, talented youngsters showcased their outstanding abilities in a packed ballroom, transformed into a professional performance space.
Inspired by a workshop led by professional composer and performer Paul Cavaciuti, the music scholars composed and performed an original piece in response to the drama scholars' performance. In addition to this, the musicians performed impressive solos on their instruments and voices ranging from Vivace for violin by Telemann to Riptide by Vance Joy.
The drama scholars entertained their appreciative audience with 'Brainstorm', written by Ned Glasier, Emily Lim and Company Three. The play was a challenging one to perform, being half-scripted and half devised by the students. In a moving performance that involved interacting with the audience of parents, pupils explored the development of the teenage brain, which they related to their personal experiences of adolescence.
Head of Performing Arts Tarani Jago said: "I am so proud of all the students. Their contributions during the creative process have been incredibly honest and original. During the performance itself, the students shone. It is such a privilege to work with such talented, energetic and committed young people."
Director of Music Emily Pettet added: "It was a pleasure to witness our music scholars work collaboratively and create a piece of music that they were so enthusiastic about. They will have taken a lot from this project and developed their musical horizons."
Headmaster Mark Tottman, who attended the event, said: "We were moved in the audience by the quality and emotion of these performances. This was an evening when Dunottar showcased our very best musicians and dramatists, performing together as friends from different year groups."