Pupils, parents and staff at Dunottar School in Reigate have ditched uniforms for the day to donate food to a local foodbank.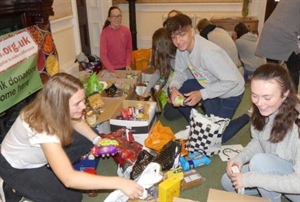 The foodbank is run by Loveworks, a Reigate charity that aims to respond to all social needs and concerns facing local people today. It assists individuals and families in the community who have, for whatever reason, temporarily found themselves unable to afford food.
The pupils' charity committee elected to support Loveworks for the second year in a row; last year, the Dunottar filled two cars with donations.
Maths teacher and charity co-ordinator, LucyAnne Chessell, said: "Pupils responded generously, with many bringing in whole carrier bags of food. We want to continue to raise pupils' awareness of those in need in the local community."
For information about how to support Loveworks, see http://www.loveworks.org.uk/