On Saturday 6th October, 146 students from 27 schools spent two hours sampling lessons at Dunottar School in Reigate.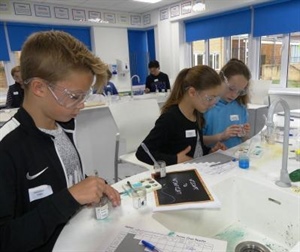 These activities formed part of a taster morning of exciting events for Year 6 and Year 8 students, who are registered to sit the school's entrance exams for September 2019 11+ and 13+ entry.
The prospective pupils chose between a range of activities, which included using their maths skills to break codes; baking seasonal pastries; performing a poem; learning about high-speed flash photography; using computer aided design and a laser cutter to make a keyring or bag tag; learning how to programme and produce a robot; a cricket masterclass; fabric printing; a hocus pocus potions class; a history crystal maze; and dissecting a squid.  
Sue Edwards, Head of Admissions, said: "The purpose of the taster morning was to give the children an opportunity to experience life at Dunottar and to start to form friendships with potential new classmates. We wanted the students to have fun and get to know the school a little better, helping them to feel relaxed and able to do their best when they return to sit their entrance assessments."
Headmaster, Mark Tottman, commented: "I asked the pupils how many of them had learned something during the morning, and every hand went up! They all seemed to enjoy themselves on the day and were able to take home a little taste of Dunottar."