Lower sixth pupils at Dunottar School in Reigate have enjoyed three days off curriculum to focus on university applications.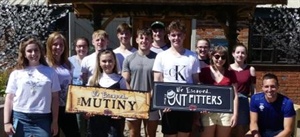 The aim of the programme was to give the 16- to 17-year-olds the best preparation for their applications to tertiary education.
The UCAS activities were the culmination of a term's work during the pupils' integrated studies lessons. In the lessons, they had researched courses, universities, gap years and apprenticeships. They had also taken the Centigrade Test, which helped them to determine the courses that would best suit them at university.
During the three-day UCAS programme, the teenagers welcomed a representative from the University of Surrey, who talked to them about how to choose the right course and University.
Dunottar's deputy head Pippa Smithson, who has responsibility for teaching and learning at the school, talked to the pupils about how to write a personal statement. She provided helpful tips about how to impress universities and, by the end of the week, each pupil had drafted their personal statement and received feedback.
The sixth formers also enjoyed trips to Sussex University, rounding off the week with an unexpected activity: they practised their team building, leadership and collaborative skills at Tulley's Farm, successfully breaking out of two escape rooms.
Head of Sixth Form Charlie Hammond said: "Dunottar's UCAS 2018 programme has been a huge success; I can't think of a better way to promote initiative, resilience, communication and leadership amongst our students.
"The Lower Sixth are feeling well prepared to hit the ground running in September in their final months of secondary education before making their own mark in the world—whether that is at University or in employment.
"Dunottar gives pupils the skills to tackle life's challenges."
Over the summer, construction began on a new sixth form centre, which is scheduled for completion by Easter 2019.
For information about studying A levels at Dunottar, email info@dunottarschool.com or telephone 01737 761 945.