On Wednesday 4th July, best-selling author and historian Tracy Borman visited Dunottar School in Reigate to talk about the private lives of the Tudors.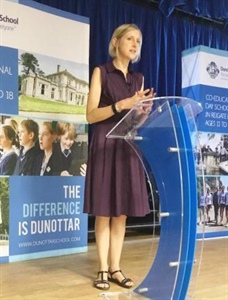 Dr Borman is Chief Executive of the heritage Education Trust, a charity that encourages children to visit and learn from historic properties through the Sandford Award scheme. She is also joint Chief Curator of Historic Royal Palaces, the charity that manages Hampton Court Palace, the Tower of London and other historic properties.
The television broadcaster, who presented three series of Private Lives of the Monarchs for Yesterday TV, talked to her rapt audience of students and school visitors about the private lives, loves and scandals of the Tudors.
Tracy then signed copies of her debut novel 'The King's Witch', which was published last month.
Cole, who is studying GCSE history, commented: "It was interesting because it was a different view of the Tudors, coming from an experienced historian. I've learnt that you shouldn't take everything you read as the truth."
"A truly fantastic evening!" said audience member and parent Mrs Ashkuri. "Ms Borman is such a consummate speaker, so very talented, engaging and enthralling. I thoroughly enjoyed myself! I could listen for hours, such a privilege."
Head of History, Julie Boden, said: "It was an absolute pleasure to welcome Tracy back to Dunottar. Tracy's presentation appealed to a wide range of audience members, from age 11 to retirees. It was intriguing to have the opportunity to delve into the lesser known facts about the private lives of the Tudors, something that we don't usually cover in the history curriculum."
Dr Borman's highly acclaimed 'Elizabeth's Women' was Book of the Week on radio 4, and her latest biography, 'Thomas Cromwell: the untold story of Henry VIII's most faithful servant', was a Sunday Times bestseller.