On Monday, 2nd July, pupils, parents and staff from Dunottar School in Reigate filled the Dorking Halls to capacity to celebrate prize giving evening. They welcomed as their keynote speaker Gemma Morgan, a former student and Ambassador for Help for Heroes, which supports wounded, injured and sick British Armed Forces Veterans.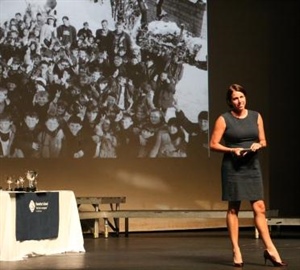 Gemma trained at the Royal Military Academy Sandhurst where she was the first woman to be awarded the Carmen Sword for outstanding performance as a young officer. A former international athlete, she captained Wales in lacrosse and competed across three World Cups. She was awarded the 'Most Valuable Player in Europe' at the 1997 Championships.
As a result of military service, Gemma suffered from post-traumatic stress, and she now campaigns to promote better mental health awareness in organisations. In addition to her work for Help for Heroes, she was part of the 2016 BBC TV documentary Gareth Malone and the Invictus Games Choir. She also recently collaborated with HRH Prince Harry and Warner Brothers in the promotion of the film Dunkirk.
Addressing a packed hall, she talked about her life and experiences, stating that 'Wonder Woman does not exist', stressing the importance of our human connections and relationships with others.
Reflecting of the event, she said: "Last night was something special. A wonderful celebration. Dunottar is a school living to its values. Prizes were given for courage, resilience and warrior achievement: The best in everyone."
Mark Tottman, Headmaster of Dunottar School, said: "This was a wonderful evening, not just of giving prizes, but of celebrating everything that is excellent about Dunottar. Gemma inspired the audience by opening her heart to them. You could hear a pin drop as she told her story.
"We were also treated to two outstanding musical performances by our pupils, and it was great to see so many people feeling good about being part of the Dunottar community."
As a keynote speaker and performance coach, Gemma has twenty years of international experience in leadership and team performance across the military, business and elite sport sectors. A Fellow of the Institute of Leadership and Management, her work includes board level strategy facilitation, executive coaching with global brands and elite sports team development.