Year 7 and 8 Students at Dunottar School in Reigate have been working towards a nationally recognised award for STEM (Science Technology Engineering and Mathematics) project work.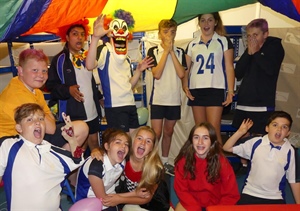 116 pupils enjoyed three days off curriculum to work towards the British Science Association's bronze CREST Award, which provides STEM enrichment opportunities to inspire and engage 5- to 19-year-olds.
The bronze CREST award provides a real-life experience of 'being' a scientist, designer or engineer and working on STEM projects. The students experienced the project process, improving their enquiry, problem-solving and communication skills.
Responding to a fictional scenario in which the world was in chaos and many Surrey residents were affected by an unknown pathogen that turned them into zombies, the Dunottar youngsters, some of the last survivors, were challenged to complete a range of tasks:
DISASTER SURVIVAL: Pupils needed to use science and technology to design solutions to the most urgent problems: food, water and shelter. They were challenged to heat food with solar energy, make dirty water drinkable, and design a warm, safe shelter.
DOCTOR, DOCTOR: A fictional unknown pathogen was ravaging Surrey and turning the unlucky souls into bloodthirsty, ambling beasts.  Surrey was under martial law and cut off from the rest of the UK.  Dunottar pupils, some of the last uninfected citizens, were tasked with decisions to make about how to save Surrey—and perhaps the world.
RESCUE MISSIONS: Pupils designed and built working rescue robots.
BEHIN THE GREEN SCREEN: using specialist digital green-screen technology, students created a short film to document events in the apocalyptic world around them.
WACKY RACERS: students researched and developed their understanding of aerodynamics and engineering to design fast rail racers. The winning racer won the coveted award of Formula D (Dunottar) Champion.
ESCAPE ROOM: Pupils went on a research trip to Tulley's Farm and met owner Stuart Beare. After experiencing an escape room, Stuart explained the process of theming, designing, testing and constructing an escape room. The young mathematicians were challenged to use creativity, logic and mathematical codes to construct two themed escape rooms. At the end of the week, attempted escapes were live-beamed into the school hall, and representatives from Tulley's Farm visited Dunottar to hear pupils' presentations.
Head of design and technology, Fiona Exley, said: "The lower-school STEM week is an initiative to get all of Year 7 and 8 to have fun and try something different. It is an opportunity to experience elements of the subjects which might inspire them to consider further educational or career possibilities in medicine, robotics, engineering, design and other related subjects.
"I have been absolutely delighted and incredibly proud of the way students and staff have embraced this week's challenges."