On 28th June, Year 9 and 10 pupils from a school in Reigate were treated to modern dance lessons from award-winning professional dancers.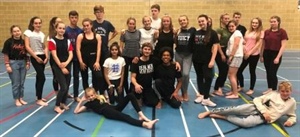 Matthew Sandiford and Edward Pearce from BalletBoyz delivered two workshops as part of a themed morning of cultural (dance, poetry, art and food) activities at Dunottar.
BalletBoyz is an all-male contemporary dance company, made up of dancers who tour nationally and across the globe.
Matthew and Edward gave a small demonstration of their work, introduced the pupils to some of their choreography and taught them some dance moves.
Year 9 pupil Holly said: "They taught us different styles instead of going straight into a dance. I really enjoyed it—it was fun!"
Tarani Jago, head of performing arts at Dunottar, added: "It was such a delight to see how our students threw themselves wholeheartedly into the workshop. The students responded brilliantly, approaching the workshop with discipline but also a real sense of fun. It was a joy that those who do not see themselves as dancers gained so much confidence as well as a new appreciation for dance as an art form.
"Ed and Mark commented on how much they enjoyed working with our students. They're looking forward to returning to the school."
Balletboyz is now in its eighteenth year, and the company has won numerous awards and accolades, including the National Dance Award for Best Independent Company.