On 28th June, Year 9 and 10 pupils from Dunottar School in Reigate enjoyed a morning of poetry workshops delivered by one of the UK's best spoken word performers.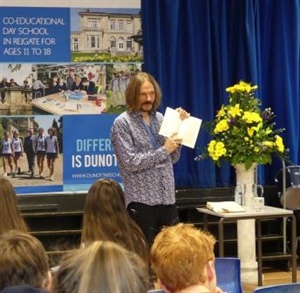 Described by his publisher as 'one of the outstanding poets of his generation', poet and performer Ash Dickinson is a multiple poetry slam champion, who has headlined many shows and festivals throughout the UK, including the Edinburgh Fringe.
Ash, who has performed his poetry in Australia, the United States, New Zealand, Germany, Spain, Jordan and the Czech Republic, delivered two workshops at Dunottar. After explaining how he became a poet and performing some of his poems, Ash led hands-on workshops in which the pupils experimented with new poetic forms.
Pupil Mackenzie said: "The whole workshop was very, very interesting! The short rhyming poems were intriguing, and it was also a lot of fun. Ash is obviously very experienced with all the poetry slams he's won, and he's very good at what he does."
Ash Dickinson commented: "I had a wonderful day with Year 9 and Year 10—they were very welcoming. We heard some terrific honest and real poetry. They were very able students, and I'm hoping we might unearth some surprise bards. I thought they were lovely—really welcoming, attentive and keen."
Head of English, Kerry Lewis, added: "It was incredibly rewarding to see how much Ash enthused and inspired the pupils. It was also good for them to appreciate that poetry is not just for exams!"
Variously published in newspapers, magazines and poetry presses, Ash's media appearances include BBC Radio, The Times, The Scotsman, Metro and Sweet TV.