A former head has girl visited Dunottar School to talk to pupils in assembly about her volunteering work for Whizz-Kidz, a charity that aims to help disabled children across the UK.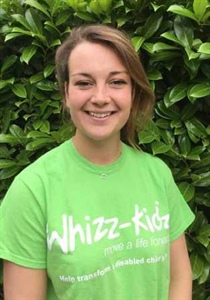 Kate Clifford, who was head girl at Dunottar in 2012, said: "I felt so privileged to be part of Dunottar. Whizz-Kidz meets Dunottar's mission statement of seeing the best in everyone."
She initially heard about the charity when she saw disabled children competing in a Tough Mudder endurance event. This inspired her to volunteer her time to raise funds for the charity. Next year, Kate aims to raise £1,900 by running in the London Marathon.
After leaving Dunottar with A levels in drama, sociology and history, Kate gained a degree in drama at Exeter University. She worked in Canada for a year and then became a youth expedition leader in Fiji. She is currently combining working as a part-time volunteer at a special needs school with producing for the Children's Media Conference, which develops, produces and distributes content to children on all platforms.
She approached Dunottar, having read news articles about the school's 'bad hair day' to raise essential cash for Great Ormond Street Hospital.
Headmaster Mark Tottman said: "It was a pleasure to welcome Kate back to Dunottar after five years. She was delighted to see some familiar faces, and she commented favourably on how Dunottar has now become fully co-educational in the time since she was here. It was an inspiring assembly for a very worthwhile cause."