When pupils from Dunottar School return from their summer holiday, they'll see a new sixth-form centre under construction.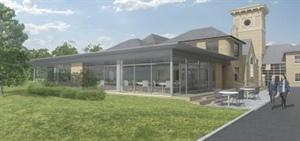 Planning permission has been granted for a sixth-form centre, an assembly hall and classrooms, an extension to the dining hall and a remodelled kitchen.
Building for the sixth-form centre will begin this summer with a target completion date of Easter 2019, after which the remaining building work will begin. The whole project is expected to be finished by August 2020.
These new buildings will improve the educational experience for the increasing number of pupils attending the popular Reigate-based school. Since Dunottar became co-educational and joined the United Learning group in March 2014, pupil numbers have risen rapidly. In September 2018, the number of boys in the school will match the number of girls.
The sixth-form centre will provide dedicated working and relaxing space, replacing the old sixth-form common room, which will be refurbished to create a state-of-the-art library.
Year 12 and 13 students will enjoy the benefits of silent study areas, collaborative study areas and social spaces, such as a patio, a cafeteria and a 'rec room'.
Andy Cotton, Estates manager at Dunottar, said: "The new building will be energy efficient with lots of natural light, complemented by an LED lighting system and an environmentally considered heating system.
"We're going to maintain the ecology of the existing landscaping with new plants and trees that are sympathetic to the historical gardens. The new buildings have been designed to integrate perfectly with our beautiful Grade II listed buildings."
Headmaster Mark Tottman said: "The new sixth-form centre will provide a modern working space which will look and feel as much like being at university and the world of work as being in a school. We are keen to give our pupils the chance to learn in an environment that prepares them for life beyond Dunottar. The assembly hall will enable us to hold whole-school assemblies as the school continues to grow. It will be a fabulous new venue for pupils to practise and perform music and drama, which are both very important to us at Dunottar."
For information about studying A levels at Dunottar, contact info@dunottarschool.com.