Pupils at Dunottar School in Reigate have raised £310 in support of Kids for Kids, an organisation that aims to help malnourished children in Darfur, Sudan, by loaning families goats and providing an integrated package of sustainable projects suitable to the region.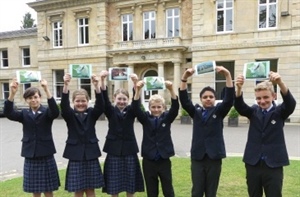 Dunottar pupils embarked upon a range of fundraising initiatives, which included an own-clothes day and a staff versus pupils lunchtime rounders match. The cash raised is enough to educate a child for a year, buy four goats and one donkey.
Last term, members of the school's charity committee researched Kids for Kids and elected to support the charity for the first half of the summer term.
Mathematics teacher and head of fundraising, LucyAnne Chessell, said: "Following our committee's vote, Patricia Parker, the founder of Kids for Kids, was invited to Dunottar to talk to the charity committee. The students were so inspired by what her charity does that they really wanted to help."
Kids for Kids has 'adopted' 87 villages across North Darfur and helped to improve the lives of over 370,000 people living in remote and inaccessible regions where violence is still a daily hazard on the walk to water.