On Friday, 23rd February, Year 9 students at Dunottar School in Reigate enjoyed a day of cross-curricular events, linked to World War 1.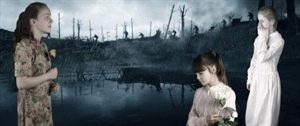 The aim of the day, which formed part of the 1914-18 centenary celebrations, was to learn about aspects of the war that are not covered in the history curriculum.
The history department at Dunottar School is the first secondary school in Surrey and one of only seven secondary schools in the country to be awarded the gold Historical Association Quality Mark, which recognises the excellence of history provision in a school.
Head of history, Julie Boden, said: "It's important that the pupils see that history is not a subject that's studied in isolation: it's relevant to other subjects too."
Pupils took part in a wide range of activities, which included:
Design and Technology: Inspired by trench art, making a poppy arch from recycled aluminium for a memorial garden.
English and drama: exploring the nature of fear in the trenches through the enactment of an extract from R. C. Sherriff's 'Journey's End'.
French: the exploration of the life of French soldiers in the trenches through the examination of poetry, correspondence and a diary extract. Pupils wrote poetry and made a corn flower, which is the remembrance flower for the French.
History: students learnt an army drill which culminated in a house 'drill off' competition.
Science: the investigation of gas warfare, learning about other injuries that the soldiers sustained, and appreciating medical advancements that are a result of war.
Photography: Using original images taken during the First World War, students 'fused' to these images, dressed up as soldiers and their families, using green-screen technology and digital photography.
Religious Studies: discussions about the morality of war and whether it is ever right to kill. Students debated thought experiments; engaged with moral philosophies such as Utilitarianism; and pondered over time travel and murdering Hitler as a baby. They also applied what they learnt to the bombing of Dresden in the Second World War.
Sport: a lunch-time five-a-side football tournament, recognising the trench football match between the British and German soldiers during the Christmas of 1914.
Mrs Boden commented: "Although it aimed to be an enjoyable session, students were reminded that the average age of a typical soldier was just 19. Emphasis was on how young these men were and how soldiers and their families suffered in this unnecessary war.
"Also, a quarter of a million soldiers under the age of 19 signed up to fight in The Great War. Although many underage boys were turned away, some recruitment officers turned a blind eye. It was a great day for Year 9. As well as having fun, hopefully they will have taken some time to reflect.
"The history department would like to thank all the members of staff who were involved in making the day such a great success."