On Monday 29th January, Year 7 pupils from a school in Reigate travelled to the 20,000 capacity O2 Arena in London to sing in front of thousands.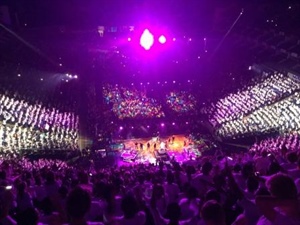 Over fifty Year 7 students from Dunottar School joined 7,000 children from schools across the South East to perform a range of songs to an audience of friends and family at a Young Voices concert.
Young Voices is an organisation which believes passionately in inspiring the next generation to find their love for music. It stages full-scale arena concerts with first-class production values nationwide. 
The O2 programme consisted of a variety of performances, including songs, dances and solos by professional musicians, including soul singer Natalie Williams, 16-year-old Alfie Sheard and vocal harmony stars The M4gnets.  
Year 7 pupil Barney said: "I enjoyed watching the really talented singers, bands and dance group. I particularly liked Urban Strides: their street dancing was absolutely amazing! It was also great singing alongside 7,000 other voices."
Ciara added: "An amazing day! I love the feeling of singing with thousands of people. I loved the dances and when the lights changed colour, depending on the song."
Emily Pettet, director of music at Dunottar School, said: "We were delighted to return to the Young Voices concert after last year's success. It is so important for young people to grow up with music—this experience gives everyone an equal opportunity to participate and shine."