A pupil from Dunottar School has overcome odds to gain third place in the Junior X30 Class of the 2017 Buckmore Park Kart Championship.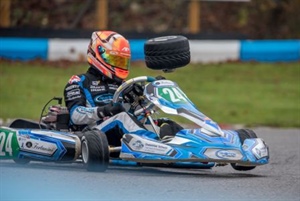 Determined Reigate racer Alfie overcame odds in the face of adversity.
His father commented: "Going into the last round, he needed a solid result to secure his place and, despite a spectacular crash as a result of a wheel flying off at 70 mph in an early heat, he was able to amass the points he needed."
This year, Alfie, who has been racing since he was seven, has also come sixteenth in the British Grand Prix, qualifying for the international finals in Le Mans. In 2018, he hopes to compete for national and European honours.
Simon Manning, Director of Sport at Dunottar School, said: "We're extremely proud of his achievements in the kart. He clearly takes sports, whether they be inside or outside the school, seriously. This is shown by his performance and also by the way he contributes to the school through his commitments to rugby, football and cricket."