Students and staff from a school in Reigate have raised more than £300 for a Redhill-based charity.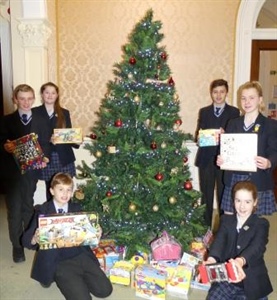 Dunottar School pupils have ditched their uniforms and donned their own clothes to raise £320 for Stripey Stork, which supports children and parents who experience hardship in Surrey.
The initiative was led by Dunottar's head of science, Rea Pope, who said: "I came across the charity while looking at various things on my Facebook feed. Stripey Stork have launched a Help Santa Stork! Christmas appeal, and I thought it would be lovely for the school to get involved with something that supports families in Surrey. This will also help our students to understand that there are local families who are in need, and we should be helping them at this time of year."
Many generous parents, pupils and staff went above and beyond donating cash, instead electing to buy Christmas presents to donate to the charity.
Stripey Stork works in partnership with support services such as children's centres, health visitors and social service agencies. Further information: http://www.stripeystork.org.uk/santa-stork-campaign/