Pupils give premiere performance of specially commissioned piece.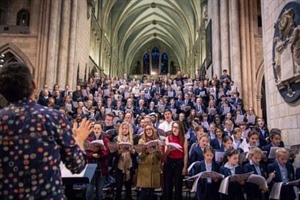 On Monday night, Dunottar School pupils sang with hundreds of their peers from across the country in a special concert in Southwark Cathedral.  The pupils had travelled to London to sing in the premiere performance of Wassail! Carols of Comforts and Joy—a brand new musical score composed by renowned composer Alexander L'Estrange.
The performance was organised by United Learning—a national group of schools that includes Dunottar School.  United Learning's Partnership Fund, which seeks to enhance the opportunities available to pupils, commissioned the piece as a way of opening up the world of choral singing to pupils across the Group; the piece itself draws on folk traditions with a modern twist, influenced by both jazz and modern choral music.
This week's performances were the result of months of intensive rehearsals.  The Dunottar pupils had been learning and practising the piece since the beginning of term but only joined with the other schools on the day of the performance.
Emily Pettet, Director of Music at Dunottar School, said: "One of the best things about being part of the United Learning group is the number of opportunities for our students to collaborate with other schools and experience performing with professional musicians in major venues. We were very pleased to include all of our Year 8 students in Wassail! on Monday; they thoroughly enjoyed performing in the event, and we know that this was a unique experience that they will remember for a long time."
Clara commented: "The singing was so amazing, as the sound echoed on the walls of the cathedral."
Lauren added: "It was a brilliant experience that captured the joy of Christmas and mirrored the beautiful church."
Catherine Barker, Head of Music and Performing Arts at United Learning, said: "Last night's performance was absolutely spectacular.  The sound of hundreds of students from across the country singing together has been truly moving, and I am thrilled that the students received such a resounding round of applause from the audience.
"Not only has this project introduced our students to a vast array of different types of music, it has given them the chance to collaborate with their peers from across the country.  These performances showed that music can unite us all—wherever we live and whatever our background.  It has been incredibly poignant to see our choirs comprising students from a diverse range of cultures, and I hope that Wassail! will continue to bring such enjoyment to all schools throughout the country."
This project has recently been shortlisted in the Best Classical Music Education Initiative category at the Music Teachers Awards 2018, sponsored by Classic FM.  The winner will be chosen by a public vote on www.classicfm.com.