A school in Reigate has ditched uniforms for the day to donate to a foodbank.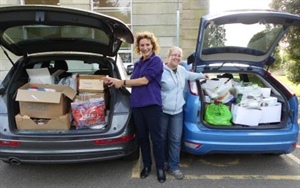 Pupils, parents and staff at Dunottar School have managed to fill two cars with non-perishable food items.
The food bank is run by Loveworks, a charity that aims to respond to all social needs and concerns facing local people today. It assists individuals and families in the community who have, for whatever reason, temporarily found themselves unable to afford food.
The heads of house at Dunottar School decided to support the charity after Loveworks contacted the school to request donations from harvest assembly.
LucyAnne Chessell, Head of Georges's House, said: "We decided to combine harvest festival donations with 'own clothes day'. This way, pupils could bring in two donations.
"People's generosity exceeded expectations because some students weren't just bringing in the minimum two items—some were bringing in whole carrier bags of food. Other people thought about the meals they might be providing and brought food for a particular meal."
The maths teacher added: "We need to keep raising awareness that, although we are Reigate where everything looks so leafy and people seem well off, actually there are a lot of local people who are struggling."
For information about how you can support Loveworks, see http://www.loveworks.org.uk/