On Thursday 14th September, pupils, parents and staff from Dunottar School in Reigate enjoyed an inspirational speech at their annual prize giving evening from Mark Tottman, the school's new headmaster.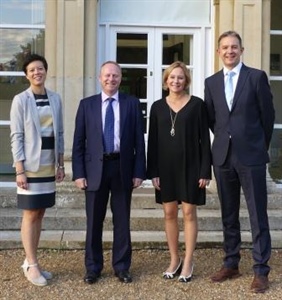 Mark Tottman, the first male Head in the school's ninety-year history, has joined Dunottar from Dean Close School in Cheltenham where he was Academic Deputy Head and Director for Admissions and Marketing across its Foundation. He holds a degree in Modern History from the University of Oxford and an MBA from Edinburgh Business School.
Addressing a packed sports hall, especially fitted out for the occasion, his speech focused on the importance of creative thinking skills for life beyond school.
He said: "Education helps to equip students with formal qualifications, but it also needs to prepare you for jobs which do not yet exist."
He encouraged pupils to develop the mind-set of free thinkers so that they will be able to adapt more readily to change, developing the leadership and entrepreneurial skills for success. He encouraged pupils to challenge conventional ways of thinking in order to 'come up with creative, new solutions that would otherwise not have been developed'.
He added: "You need to develop the mentality and a set of behaviours which question and challenge the status quo in the right way, which create and invent the future, which require courage and broad intelligence—behaviours similar to those of our Warrior Learners here at Dunottar.
"As you get better at thinking on your feet and challenging convention, and if you can enjoy being outside your comfort zone and doing the unexpected, you can develop an A* lifestyle in the future."