A teacher from a Reigate school took a sixth place finish at the World Icosathlon Championships in Belgium and is the highest ranked British male.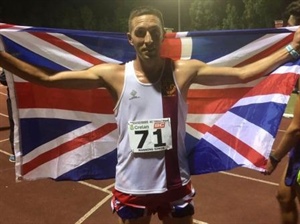 On the weekend of 25th-26th August, Simon Manning, Director of Sport at Dunottar School, competed in the International Association of Ultra Multi-Events Icosathlon (a double decathlon) World Championships at Turnhout in Belgium.
On the first day, this involved a 100m sprint, in which a solid showing and a season's best saw Simon post a time of 12.00 seconds—the third fastest amongst the Senior Men's competition. The long jump, shot put and the 200m hurdles followed before the gruelling double of a 5000m and the 800m.
Saturday afternoon involved high jump, hammer throw and 400m before a 3000m steeplechase, which included seven clearances over a flood-lit water jump in the Belgian summer night. At the conclusion of the first day, Simon was in seventh place overall.
On the Sunday, there were 110m hurdles, which Simon completed just outside his personal best. The discus and pole vault followed, separated by a 200m sprint. The 3000m race saw Simon further tighten his grip on 6th place, to which he had risen during the morning. The final five events were the 400m hurdles, javelin, 1500m run, triple jump and the 10,000m finale. Simon ran a well-paced 10,000m to finish strongly, overtaking a number of athletes in the closing stages to finish third in the race in a time of 39:59:14 minutes, thereby securing his 6th place finish overall.
Friendly country 4x100m relays were announced, and Simon was part of the British team that romped to victory by 40 metres in the light-hearted climax to the long weekend of athletics.
Simon, who has competed in a number of athletic events for his club, South London Harriers, commented: "I completed a decathlon in 2015, but decided to take it a step further this year with the double decathlon. I really enjoy testing myself across all of the athletic events and striving to try and better my performances and personal bests."
Mark Tottman, Headmaster of Dunottar School, said: "It is energy sapping just reading about all the different events that Simon completed over the two days. We are immensely proud of him."