Staff and students at Dunottar School in Reigate are today celebrating a 100% A-Level pass rate, with more than half being awarded A* to B grades. Candidates secured top grades in art, geography and Spanish as well as full marks for exam papers in history, government and politics.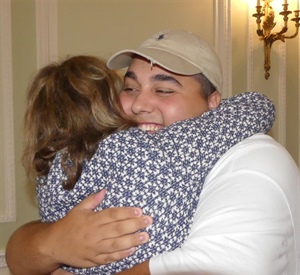 Students will now be going on to take up places on degree courses ranging from biomedical sciences to English literature, geography, law and international relations at top UK universities, including Bath, Birmingham, Royal Holloway and Exeter. Others will be going abroad to study at top international institutions, with one pupil set to study animation in France and another to study law in Spain.
Amongst the notable successes are:
Thea, whose results include A*AA in art, classical civilisation and history. Dropping just 3 marks for an A*in classical civilisation, she achieved an A* in her history Tudor exam paper and coursework on the Vietnam war. Thea plans to study history at York University. She commented: "I'll miss my friends at Dunottar and the fact that everything's so small and you know everybody. The teachers are really supportive."
Arianna joined Dunottar's sixth form from an international school in Barcelona. She achieved A*AB in Spanish, psychology and economics. Arianna, who is Deputy School Captain, said: "In my other school when I did my GCSEs, I didn't really get high grades but here, my teachers really pushed me to get my full potential. I'll miss us as a family. We all want to do well and help each other to do well." Arianna plans to return to Barcelona to study law.
Arrie, who will celebrate his eighteenth birthday next week, exceeded expectations with his exam results in psychology, religious studies and English literature. Rejecting his previous university offers, he is applying for UCAS adjustment to study film and television. Arrie, who is the school's Deputy School Captain, was absent for 10 weeks before Christmas due to pneumonia and pleurisy. He said: "Dunottar is a wonderful, homely environment, which has helped me a lot. Support by the teachers has been a massive positive. In other schools, I wouldn't have had nearly enough attention, which is key to getting the grades you need."
Jasmine achieved BAA in French, history, government and politics with an A* in her Russia exam paper in history. She is taking up a place at the University of Bath to study French and Russian and said: "I'll miss everything about Dunottar–it's like my second home. I'm really grateful."
Congratulating all of the Sixth Form on their results, Rowena Cole, head teacher, said: "I am delighted that our students have achieved A-level results which will open the doors to their chosen degree courses. They have all worked so hard and given so much to Dunottar during their time at the school. We are very proud of them all."