Pupils at a school in Reigate have been enjoying three days off their timetabled lessons to develop their creative and team-working skills.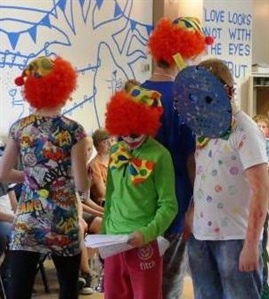 Year 7 and 8 students at Dunottar School have enjoyed a range of arts activities, which culminated in showcasing:
A performance of an abridged version of 'A Midsummer Night's Dream'
The design and creation of the stage set and costumes
The performance and writing of the music for the Shakespeare play
Beautifully baked and decorated cakes and cupcakes
A short film about the Elizabethans, written and filmed in the style of Horrible Histories
Nature inspired tape art, which decorated the school hall
A documentary of the whole event, filmed and edited by students
The idea for the creative arts activities was initiated by deputy head Pippa Smithson. She commented: "We wanted to raise the profile of the arts and allow pupils to immerse themselves in their chosen project. We made it clear that we had really high expectations of what they would produce by the end of the week. The pupils not only rose to the challenge but in many cases exceeded our expectations and their own."
Head of performing arts, Tarani Ariyanayagam, added: "This week has been one of the most fulfilling weeks I've had at Dunottar School. Seeing the work created by the students across the festival has been utterly inspiring and humbling to witness. The commitment and energy from the staff involved has also been second to none."
Tabby, who was involved in the Horrible Histories option, commented: "I enjoyed the whole experience—not just the editing, but the filming and planning as well. I loved everything about it!"