On April 16th, Dunottar School pupil Alfie won the first round of the 2017 Buckmore Park Kart Championship.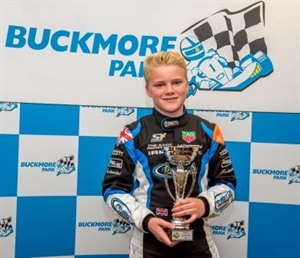 Beating more experienced and older rivals, the Reigate racer came from third to take an exciting lead on lap thirteen of fourteen, finishing with just a half-second lead over the runner up.
Alfie graduated early to the powerful Junior class X30 kart and, after putting in miles of practice over the winter, he converted that dedication into a win in the first race of the summer season.
Proud father Peter said: "It is a very promising start to the new season. The Junior kart is a difficult-to-handle racing machine, and Alfie has shown real maturity in his racing to get the result".
Alfie, who has been racing since he was seven, races with Ambition Motorsports. As a Cadet, he won national honours in the 2016 Open Plate race and came third in the 2015 Buckmore Park Championship.