On 23rd and 24th March, Dunottar School in Reigate opened its doors to a carnivorous plant with an unquenchable thirst for human blood.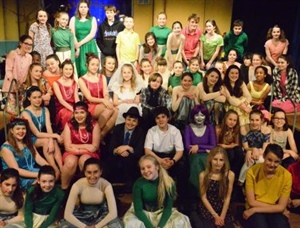 Directed by Tarani Ariyanayagam and musical director Emily Pettet, pupils from Years 7-13 performed 'Little Shop of Horrors', full of the quirky, dark humour about a man-eating plant, to a packed hall of pupils, parents and teachers.
With an electrifying 1960's pop/rock score by Alan Menken and Howard Ashman, the performance successfully recreated the thrill of a sci-fi horror musical. The band of students and professional musicians brought the score to life with musical performances ranging from the sweet, Disney-like melodies of Audrey's solo in Somewhere that's Green to the brash, jazzy song Git It, sung by Audrey II.
Art teacher Marion Baker, ably assisted by pupils, transformed the stage into the inside of a failing flower shop, which contrasted with the vibrancy of the costumes, designed and created by Nicola Wintle and Fiona Exley, with the help of pupil Olivia Blackburn.
Director Tarani Ariyanayagam commented: "When Miss Pettet and I chose 'Little Shop of Horrors' for the 2017 musical, we did so on the assumption that it would be a great musical for a small but growing school. When nearly a third of the school turned up to audition, we were absolutely delighted! Miss Pettet and I are so proud of what our students have achieved over the last months."
Musical Director Emily Pettet added: "The tenacity and enthusiasm of the cast has been unwavering since the first rehearsal. The entire cast have learnt to take greater risks as performers and, as a witness to their incredible journey, I would argue that their progress is indicative of Dunottar's upward trajectory and supportive ethos."