On Tuesday, Year 7 pupils from Dunottar School in Reigate hit the O2 Arena to sing in front of thousands.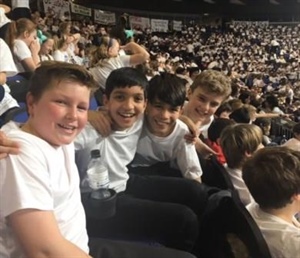 Nearly sixty Year 7 students from Dunottar joined 175 school choirs from across the country to perform a range of songs to an audience of friends and family. Tickets to watch the Young Voices show were sold out in the 20,000 capacity O2 Arena.
Young Voices brings thousands of children from across the country together to sing in harmony. Their concerts are accompanied by a wide range of musicians and artists, creating amazing performances. This year, there was great excitement when the 70,000 performers were accompanied by Sharlene Hector, singer-songwriter and lead vocalist of Basement Jaxx.
The concert raised funds for Nordoff Robbins, the largest independent music therapy charity in the UK, dedicated to changing the lives of vulnerable and isolated people.
Henry, a student at Dunottar, said: "The thing about the Young Voices concert that I will remember the most is the singing and the excitement at the O2 because I have never done anything like that before!"
Emily Pettet, director of music at Dunottar, said: "It was a brilliant day! We sang, we danced, we beat-boxed and came back inspired!"