A group of students from Dunottar School in Reigate have won the Surrey SATRO KS5 2017 heat, which was held last night St Bede's School in Redhill.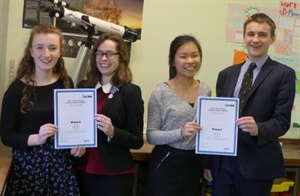 SATRO is an educational charity and social enterprise that aims to inspire young people to follow careers in Science, Technology, Engineering and Maths (STEM). It has been working with young people in Surrey and the South East for over thirty years and provides real-life experience of all aspects of the working world, particularly through a diverse and challenging range of programmes.
Dunottar School's sixth form team, who won the Surrey SATRO KS5 heat last night, were challenged to design an engineering solution to a problem using only the materials provided.
Head of Science Rea Pope commented: "The team worked exceptionally well together, swiftly designing and constructing their model. This allowed ample time for the testing and refining of their design.
"I am extremely proud of our students," she added. "Their design was well thought through, efficient and expertly built. We are looking forward to seeing what they can accomplish in the final".
Dunottar will be competing against the remaining four finalists at ACS Cobham next month.