On Saturday 10th December, Love Dunottar Parent Teacher Association hosted a 'Caring for Christmas' lunch for senior citizens living in the Redhill and Reigate area.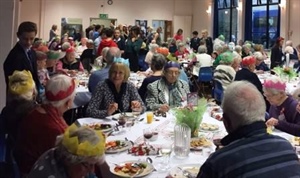 This year's event built on the successes of last year, with the number of guests rising from 78 to 130. The visitors are mainly associated with Age Concern, the Methodist Homes Association, Contact the Elderly, the Almshouses in Reigate and Redhill, and charities associated with local churches.
Nicola Wintle, event co-ordinator and parent-of-two at Dunottar, said: "Last year, we saw there was a real need in the community to address the sense of isolation amongst many elderly people living by themselves. The event was so popular last year that we decided to hold it again and increase our capacity."
Many individuals and organisations contributed towards the occasion. Pupils from Dunottar School volunteered to pay £15 to sponsor a guest's Christmas lunch. RG Group, who are redeveloping Redhill, also donated generously and gave freely of their time, ensuring that goodie bags were filled, delivered and bursting with fine foods. In a community pooling of effort, the bags included food donated by Sainsbury's, boiled sweets from Morrisons; pedometers which parent Sarah Crosby liaised with Reigate & Banstead County Council to obtain; and gifts bought with a £250 donation from Esure Reigate. To complete the event, Knights Garden Centre in Betchworth donated beautiful table pieces of flowers.
Parent Georgie Lucas said: "All the sponsors have gone above and beyond to support this event. Everything they have done is much appreciated and very warmly received."
The whole school community was involved in the event. Love Dunottar PTA, teachers and friends provided transport and welcomed guests with tea and coffee upon arrival. Pupils chatted, served food, and provided a range of entertainment, which included dancing and singing. There was also a rousing group singalong, which put smiles on everyone's faces.
Nicola Wintle, who teaches business and economics at Dunottar, commented: "Through conversations with the people who came, there is clearly such a need for events like this. We're going to be looking at more ways that we can support more people in the community.
"It's so good to see what our pupils have learnt from the senior citizens," she added. "I feel we are the ones who are enriched by the day. Of course, it would not happen without the time and energy of Love Dunottar PTA, Dunottar staff, pupils and the wider Dunottar community."