Students at a school in Reigate have been throwing wet sponges at their teachers to raise money for charity.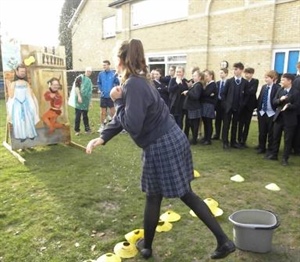 Year 7 pupils at Dunottar school in Reigate held a 'Soak a Teacher' sponge throwing event on Monday 5th December to raise cash for the Children's Society, a national charity that runs projects to help young and vulnerable children.
They raised £240 through a range of activities, which included selling baked goods, doing sponsored silences, and collecting food and clothes for the charity. 
Form tutor Jack Myers said: "The school's theme of the week is 'making a difference'. My form decided that we should make a difference to the lives of children and this generated a range of fundraising ideas. I was really impressed with the enthusiasm that they showed. Thank you also to all the teachers who volunteered their services!"