The artwork of a pupil from Dunottar School in Reigate is being exhibited at the prestigious Mall Galleries in London.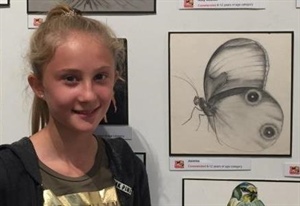 A pencil drawing of a butterfly by Jazmine is one of the commended winners of the WildArt 16 competition, run by the RSPB. Her artwork, which took two days to draw, is on display at The Society of Wildlife Artists 53rd Annual Exhibition – The Natural Eye, which is considered the foremost event in the British wildlife art calendar.
The Society of Wildlife Artists (SWLA) is a registered charity that seeks to generate appreciation and delight in the natural world through all forms of fine art inspired by the world's wildlife. Its annual exhibition is a showcase for the very best of art inspired by the natural world.
Jazmine, who has won local art competitions said: "I like drawing in my spare time, and I decided to enter the competition to see how my work compares to people's in a national competition."
Dunottar's head of art, Sam Emblem, commented: "As the Year 8 art scholar, Jazmine continues to produce work of an excellent standard. I am so very pleased that she is gaining recognition for her abilities outside of school too. Her use of strong tonal values within this piece are simply fantastic!"