Yesterday, Year 7 students at Dunottar School in Reigate were visited by Dave Smith, a feature writer, columnist and travel journalist, who led a lively writing workshop.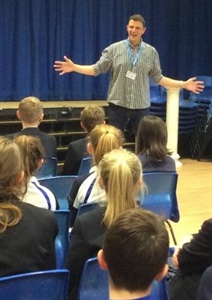 The former stand-up comedian, who has been at the type-face for more than twenty years, entertained his rapt audience with anecdotes from his life as a travel writer for The Sunday Times and The Boston Herald. He used his stories to illustrate how to write successfully, providing his eager listeners with useful writing tips.
The budding writers then put pen to paper to experiment with his advice. Volunteers entertained their peers with their articles, which included a description of the unconditional love of cats; the eating habits of tortoises; and the experience of Saturday mornings, which begin with being woken up by a feet-licking dog.
Head of English Kerry Lewis commented: "Dave aims to inspire, educate and entertain while encouraging students to express themselves with confidence and overcome the fear of the blank page. They enjoyed his presentation very much, and it motivated them to produce some excellent writing.
"His travel stories linked well to the non-fiction that the pupils have been studying this term," she added. "We'll also be submitting the pupils' articles to the sixth form editors of the student e-magazine—it was good to see that the whole afternoon worked well with curricular and co-curricular activities!"
Dave Smith has been running workshops for eight years. During this time, he has visited six hundred schools across the UK and Europe, including Rome, Munich, Brussels, Paris and Portugal.