On Thursday 15th September, pupils, parents and staff from Dunottar School in Reigate welcomed the Master of Wellington College as guest speaker to their annual prize giving evening.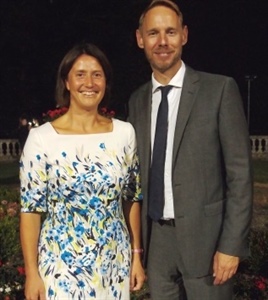 Julian Thomas became the 14th Master Wellington College last September; its alumni range from '1984' author George Orwell to Pop Idol winner Will Young.
Julian was previously headmaster at Caterham School and, due to its affiliation to United Learning, he was an influential voice in bringing Dunottar into the United Learning family of schools.
For the first time in the history of the school, the prize giving event, which rewarded A-level and GCSE achievements and attainment across the year groups, took place in the spacious sports hall, which had been especially fitted out for the occasion.
Commenting on the number of pupils doubling in the last two years, Julian said: "The story of Dunottar is simply inspirational. Dunottar has values that I picked up from eight years at Caterham, and it is clear that this school really knows about outstanding education."
Mr Thomas received plenty of plaudits for his anecdotal speech entitled 'Thomas's Top Tips'. His audience were fascinated to hear about his experiences, which included a November 2014 fundraising expedition from the coast of Antarctica to the South Pole.
Congratulating head teacher Rowena Cole and Deputy heads Marc Broughton and Pippa Smithson on being shortlisted for the 'Senior Leadership Team of the Year' category in the prestigious TES Independent School Awards 2016, he commented: "I've spent a lot of my time following Dunottar, looking at your successes and achievements. People used to say that Dunottar has a bright future. That bright future is here and now."
In her vote of thanks, Deputy School Captain Arianna Meneguel-McGill said: "Your examples in your Top Tips complement the warrior learner ethos of our school in which Dunottar encourages pupils to develop the drive and aspiration to achieve their potential."
'Thomas's Top Tips'
1. Be nice to your parents.
2. Look up to the sky because you will be amazed at what is there.
3. Do something that makes you happy.
4. A) Be true to yourself: listen to the inner you and be yourself. B) Be your best self.
5. Buy a good alarm clock.
6. Take time out to be in the moment—to think and reflect.
7. A. Dream big: have high aspirations. B. Don't let your big dreams drag you down. Have little achievements along the way.
8. Spend as much time as you can outside because it's an amazing place to be.