"First co-educational Sixth Form cohort achieves excellent results!"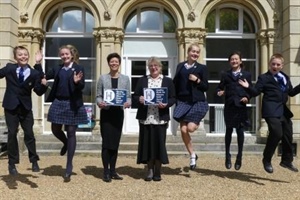 Staff and students at Dunottar School in Reigate are today celebrating the first A' Level results as a co-educational Sixth Form with 59% of A' Level entries awarded A*- B grades. 33% of the students have accepted unconditional offers for university in courses that include Psychology, Environmental Earth Science, Spanish and French.
The school, which was saved from closure in 2014 by United Learning following a campaign by its parents and pupils, is now flourishing with success across the board, including from its boys.
Dunottar, which is now fully co-educational, welcomed its first boys in September 2014, and today they are celebrating their successes alongside the girls.
Amongst the notable successes are:
Connor, who has achieved A, A, B in Maths, Psychology and Physics and will go to Edinburgh University to read Cognitive Science.
He said: "My step-mum saved me from my failed AS levels at my previous school by arranging an interview for me at Dunottar. Being the first boy in the sixth form was so different to anything I had experienced before. It was strange being the only boy for a while but then I got used to it and I've loved it. More boys joined, and the growth of the school has been phenomenal. Dunottar's made me feel much more confident about myself, not just academically, but also about talking to other people. I've become a member of a community as opposed to before when I used to be quite reclusive and sit in my own little group. I also used to be a nervous speaker, but my public speaking skills have improved so much."
The school's first male deputy school captain, who is hoping to work in the field of research or teaching, added: "The sense of community here is so different to any school that I have visited or tried. Now I talk to kids around the school, and I know about 40% of their names—in my last school I didn't know anyone's name. I'm going to miss the teachers and the younger kids."
Ginny, who will read English at King's College, University of London. She has achieved excellent results, including two A stars in English Literature and Religious Studies.
Ginny, who had full marks in her English literature exam, said: "I'm going to miss the atmosphere of Dunottar: the community; knowing everyone in the school; and being able to communicate with teachers on a friendly level. I'd like to thank Mrs Lewis and Mrs Smithson for inspiring me to study English literature at university and making me the person I am now."
Jessica, who joined the school at the age of three.  Last year, she struggled with labyrinthitis, a debilitating inner ear infection, during her AS exams. She has accepted a scholarship and an unconditional offer to read Environmental Earth Science at Aberystwyth.
Jessica, who is planning to work in the sustainability oil industry in Alaska or Canada, said: "I'm going to miss the teachers so much; they're like a family."
Congratulating all of the Sixth Form on their results, Rowena Cole, head teacher, said:
"I am incredibly pleased to see our first co-educational Sixth Form cohort achieve these excellent results, which will enable them to follow the careers and degrees of their choice, including Psychology and Criminology, English, Sports and Modern Languages.
"During their time in our Sixth Form, we want our students to broaden their horizons and to find the degree course that really ignites their enthusiasm. I am so pleased that these results mean that they can do so.
"Dunottar School is increasingly popular with parents and students because we offer a strong academic curriculum combined with excellent pastoral support. We want every child who comes here to succeed, and results like today's demonstrate that this is working in practice. We have a very exciting future ahead of us as a school, and everyone across our community will be delighted to see our Sixth Formers achieve these results".