Cellists from the Dunottar Chamber Ensemble in Reigate have been awarded the prestigious Chairman's Cup for the best performance of the evening at the Redhill and Reigate Music and Drama Festival—for the fourth year in a row.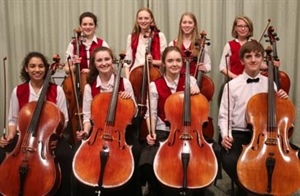 On 11thMay, Dunottar Chamber Ensemble Cellists competed against ten ensembles in the Group Music Making Class and were rated 'outstanding' by the adjudicator.
Their performance was of such a high standard that the musically gifted pupils were compared to the Berlin Philharmonic Cellos.
They received plenty of plaudits for their rendition of Requiem Aeternam from Mozart's Requiem, arranged by Patsy Gritton, followed by the traditional Mexican piece La Bamba. Demonstrating skilful technique and wonderful musicianship in both the classical and contemporary pieces, they captured the slow, sad, haunting melody of the Requiem perfectly, which contrasted beautifully with the lively and energetic La Bamba.
Adjudicator Gill Johnson commented: "What a way to end the evening here in Reigate. I love the waistcoats—you look fabulous. Eight cellos—stunning and lovely Mozart. I could hear the tune as it moved parts and the balance was great. What a great choice of contrasting pieces. Here you had us all tapping our feet and you were clearly enjoying yourselves! You remind me of the Berlin Philharmonic Cellos. Fantastic!" 
Loraine Nagioff, founder, producer and director of Dunottar Chamber Ensemble, said: "I'm thrilled with the group and overwhelmed that they had carried off the Chairman's Cup yet again!" 
As well as the prestigious Chairman's Cup, Dunottar Chamber Cellists won a medal and cup for winning the string class.