On 17th and 18th March, Dunottar School in Reigate opened its doors to a girl in a flying house, a lion, a scarecrow and a tin man.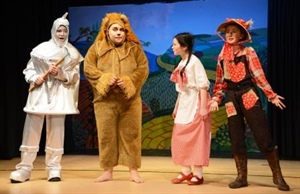 Directed by Charlie Watts, pupils from Years 7 – 13 performed 'The Wizard of Oz' to a packed hall of pupils, parents and teachers. Frank Gabrielson's musical adaptation successfully recreated the energy of L. Frank Baum's story.
Art teacher Marion Baker, ably assisted by Year 8 pupils, transformed the stage through an outstanding backdrop with the famous yellow brick road. The set and superb acting transported the audience into the colorful, vibrant country of Oz.
Corrine, who attended a performance, was thrilled. She said: "Maddie, who played Dorothy, set the tone for the show at the beginning with exceptional vocals which carried on throughout the musical. Arrie, the cowardly lion, had an entertaining chase scene, and his boisterous American accent was a delight. Jazmine was a cross between a drunkard and a boneless jellyfish as a brilliant scarecrow, who wobbled about the stage. On the hunt for a heart, the Tin Man's well-oiled performance tied all four of the main characters together beautifully! 
"One of the best scenes by far was the Jitterbug," she added, "where the audience tapped along to the old classic. From Munchkinland to We're Off to See the Wizard, the choreography by Claire Taylor added to the brilliance of the show." 
Director Charlie Watts said: "Musical Director Emily Pettet, fellow band member Charles Thompson and choreographer Claire Taylor did an outstanding job with the students, who gave highly professional performances. David Boyd's lighting added to the lively atmosphere of the play. Catherine Penfold and Nicola Wintle, assisted by Tread the Boards Costume Hire, created wonderful costumes. Nicola Wintle sewed many waistcoats for the munchkins, and this impacted positively on the brilliant performance given by all the actors.
"Hair and makeup was provided by parents Gina Watson, Lisa Longstaff and sixth former Maisie, assisted by teachers Mariu Hurriaga, Sam Emblem, Abi Welsh and Ruth Macintyre, which meant the students really looked the part. Special thanks must go to staff member Sam Wilson, who was a highly efficient Production Manager, efficiently coordinating an all-student stage crew and front-of-house volunteers. The evening was promoted by colourful posters and a programme designed by sixth-former Jacqueline.
"It was wonderful to see all the year groups pull together and give such a focused performance. I couldn't be prouder!"